What to Expect from an Adventure Safari in Uganda?
An adventure safari in Africa is worthwhile and Uganda is one of the most outstanding destinations with a wealth of adventure experiences. Uganda's contrasting and brooding landscapes offer preternatural adventures to African holiday makers, spanning from the surreal Gorilla trekking adventures in the misty cloaked mountain rainforests, to the pulse and adrenaline pumping rafting experiences on the river Nile as well as mountaineering and hiking challenges.
The small and landlocked country has a roller-coaster of landscapes and adventure experiences whose beauty and diversity is as impressive as its wildlife scenes.
Uganda was ordained the "Pearl of Africa" by early visitors like Winston Churchill after being amused by what they saw. Henry Morton Stanley,  Sir Samuel Baker and others had their own tales and praises for this stunningly beautiful country. From the far Southwest, to the East and all way north it is always adventure time.
So what should you expect on a Uganda adventure safari?
As you plan and adventure safari in Africa, Uganda is a destination you must look out for. A number of sites and activities are available, from the soft and passive wildlife adventures, to the hardcore and adrenaline pumping experiences. So what're some of them;
Uganda Gorilla trekking adventures; the country is a popular gorilla trekking destination and an encounter with the Great Apes is a soak into one of the finest wildlife adventures there is. Tracking the gorillas involves navigating the un-parallel misty cloaked mountain forests of Bwindi and Mgahinga national parks. The terrain is mountainous and quite demanding and therefore it requires some reasonable level of fitness. On a Uganda gorilla safari and adventure, you will trek through the forest following the set trails and hike to the higher elevations where the Mountain Gorillas usually dwell. They live at elevations of between 8'000 to 13'000 ft so meeting them is an adventure of a lifetime.
Nile River rafting and bungee jumping adventures; the Eastern part of Uganda is home to the most spectacular and core adrenaline stirring experiences. The Nile which is the world's longest river is home to the otherworldly whitewater rafting adventures and various grades of rapids are available depending on one's skills and interest and popular are the grade 3 and 5. For ardent rafters, there's also the extreme rafting. The Nile is a popular spot for Uganda's water adventures and apart from rafting, there's Kayaking, floating or tubing, sport fishing and more.
Leap off a tower head- facing the mighty river Nile on a bungee jump.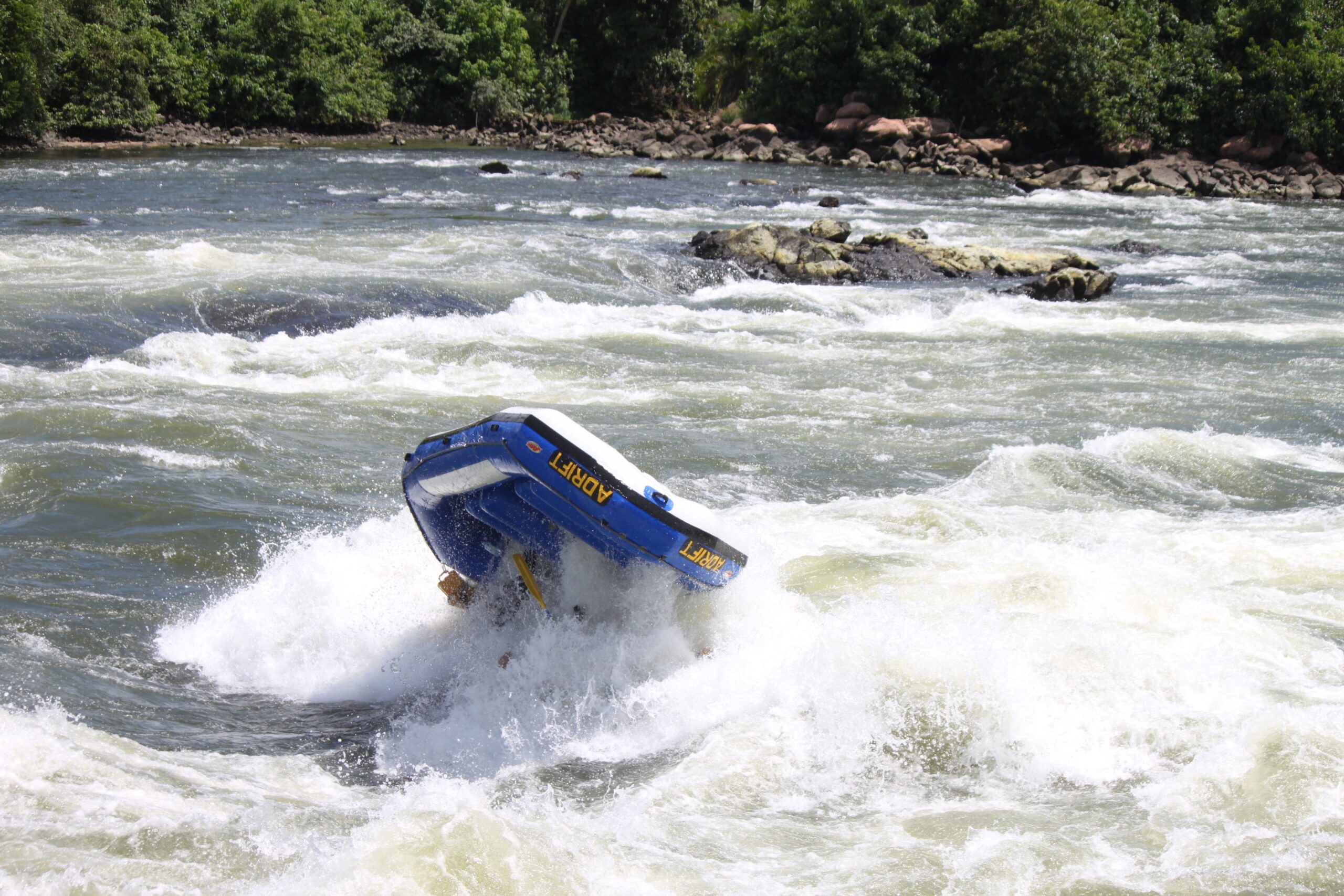 Mountaineering and Hiking in Uganda; tucked in its boundaries are some of Africa's highest peaks and top mountaineering sites. In the western part of the country is Mountain Rwenzori with one of Africa's  highest summits at 5'109meters. In the far southwest there's Mgahinga Gorilla park which has 3 volcanic summits (Muhabura, Gahinga and Sabinyo) that are part of the Virunga Massif, Mount Elgon in the East whose highest peak stands at 4'321meters and has one of the world's largest calderas at 40km long and 8km wide. At the base of Elgon is the magnificent Sipi Falls whose summit command stunning views of the neighboring regions and the Wanale ridge which offer great allure to non-enthusiastic or budding hikers/ trekkers.
So Uganda's mountaineering adventures range from short treks of one day for non-enthusiastic climbers to multi day hiking adventures. For example mount Elgon can be completed in 4 Days while Rwenzori from 7 Days depending on the trail head. There's other places one would find worth climbing like Mount Kadama in Pian Upe and Morungole in Kidepo Valley and many others.
More to those hardcore adventures are activities like Zip-lining in Mabira forest and Bunyonyi, All-terrain Quad biking adventures, Horseback riding in various places like Jinja and Lake Mburo national park, Abseiling/ rappelling.
But if what you're looking for is/are soft adventures, you might therefore consider the seat on car safari game drives and boat safaris, Chimpanzee tracking and walking safaris, immersing in the mosaic of Uganda's cultural adventures where you can participate in art and theatre, culinary arts, exploring the untamed narrow paths of the Karamojong nomad warriors to mention a few.
So if you are planning an Adventure safari in Uganda, the ATW Holidays Africa safari planner will help you curate your dream holiday.